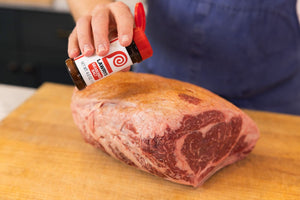 BRING THE LAWRY'S EXPERIENCE HOME FOR THE HOLIDAYS
LAWRY'S AT HOME HOLIDAY PRIME RIB FEASTS WILL BE AVAILABLE TO PREORDER STARTING OCTOBER 1st 2023! FIRST DELIVERY DATE IS NOVEMBER 7th.
Prime Rib Feasts with sides, prepared by our chefs and shipped frozen to your door. Everything you need to enjoy the classic Lawry's Prime Rib dinner in your home. Our Prime Rib dinners ship frozen with Lawry's Seasoned Salt & Pepper, Lawry's Vintage Salad Dressing, C.C. Brown's Hot Fudge Sauce and preparation instructions.
Lawry's The Prime Rib Feast
Lawry's Certified Angus Beef® prime ribs of beef (third, half, or full) with all the sides—just like they're from our cart. Shipped overnight to arrive frozen at your doorstep.
Shop Now
In 1938, Lawrence Frank and Walter Van de Kamp opened Lawry's The Prime Rib in Beverly Hills, offering what they called "The greatest meal in America."The most memorable aspect of Lawry's dining experience is a gleaming 600-pound Art Deco silver cart, wheeled to the table by a Master Carver. The cart's lid is opened to reveal succulent standing prime ribs of beef and side dishes, which are carved and plated tableside to the guest's preference.Lawry's The Prime Rib is still run by succeeding generations of the founding families. It continues to serve essentially the same meal the same way Lawrence Frank first imagined it. Learn more about the history of Lawry's one-of-a-kind dining experience. Now, you can share in that long history when you enjoy Lawry's At Home.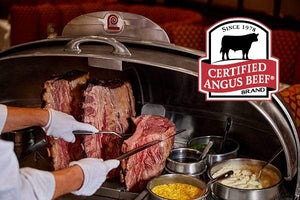 CERTIFIED ANGUS BEEF®
Lawry's Prime Rib Feasts feature Certified Angus Beef®, which is more than delicious, juicy and tender. It's the kind of meal to make memories around. 
Simply put, it's prime rib worthy of celebration and made for moments you'll want to savor. Learn more about Certified Angus Beef and what makes it so extraordinary.
How To Carve Your Prime Rib
---